Ready for Christmas yet? Christmas dinner plan finalised? Whether you are all set or still working on it, you are definitely going to want to add at least one of these 4 Cracking Christmas Recipes to your plans!! Plus find the linky for Weeks 51 and 52 of #CookBlogShare below.
Well, Christmas is nearly upon us and I am finally feeling a bit more organised. All the Christmas presents have been bought, the Christmas cards are now written and have been sent, I've even done my Christmas food shop already (got to love online shopping – just hoping they bring everything I wanted!), but best of all, as far as I am concerned…the bathroom is finally finished!! (Yes I was that stupid person who thought it would be a good idea to have their bathroom totally redone just before Christmas!)
I've also managed to keep up with the slightly bonkers schedule of blog posts, that I thought was a good idea back in November. I've been posting nearly every day for the last 3 weeks…and somehow managed to keep up. How, I'm not quite sure. My focus this Christmas has been on creating and blogging about recipes that will make life easier at Christmas, without compromising on flavour!
If you want to catch up on what I've been blogging about, do check out my roundup post: The Ultimate Easy Peasy Christmas Dinner, where I share 5 recipes that will make for a really easy Christmas lunch that can be ready in ONE HOUR (yes, it is possible) and without too much washing up, either! And I also include a roundup of all the other easy festive recipes I've been sharing over the last few weeks.
You would think that that would be enough now and I could put my feet up for the rest of the year, but no, back in November I also thought it would be a good idea to share some leftovers recipes – so that is what I'll be doing for the next 4 days…but you'll be glad to hear I won't be blogging on Christmas Day…even I draw the line at that!!
OK, it's time now for the #CookBlogShare roundup which, unsurprisingly, is Christmas themed this week. It was a tough decision as there were a lot of amazing posts linked up last week, but these 4 Cracking Christmas Recipes were my absolute favourites – hope you love them as much as I do!
If you are not a #CookBlogShare regular and are wondering what an earth I am going on about, #CookBlogShare is a place for bloggers to share their recipes. If you are a blogger and have a recipe to share, you can link up your post by following the instructions below. If you are not a blogger, but love food and cooking, do check out the recipes that will be appearing below. If this week is as good as they usually are you will find some awesome recipes – the #CookBlogShare bloggers are very good at what they do!
4 Cracking Christmas Recipes
First up is this amazing Pesto Christmas Tree from Jacqui at Recipes Made Easy. You know me, I love a show stopping recipe that is actually easy peasy to make and this one is most certainly both! It looks great and, with a combination of puff pastry, parmesan and pesto, you know it's going to taste great, but the actual recipe is super simple. I would be proud to serve this to guests at a Christmas party, or even as a starter on Christmas Day! As an added bonus, Jacqui has also included a fabulously easy recipe for a totally delicious sounding bubbly cocktail: Lemon Cranberry Fizz, featuring Limoncello AND Prosecco – definitely my kind of drink!
Still wondering what to do with your sprouts this year? Wonder no longer, as Monika from Everyday Healthy Recipes has it totally covered with this delicious sounding Christmas Sprouts with Cranberries, Chestnuts and Orange. As you are probably aware, I am a huge fan of sprouts (I wrote a post last year featuring a whopping 7 sproutilicious ideas and this year I have been experimenting with raw sprouts in my sproutslaw and raw sprout salad), and this year I've gone a bit bonkers for cranberries too, so this dish had me super excited. I love the idea of combining all these delicious flavours and then drizzling the whole lot with honey and orange juice before roasting them off in the oven. Yum, yum, YUM!
For many people a chocolate orange is essential at Christmas, while for others it's liqueur chocolates, so Charlotte from Charlotte's Lively Kitchen came up with the genius idea of combining the two to create Orange Liqueur Truffles. This recipe is also packed with super helpful tips on how to temper chocolate and how to colour tempered chocolate, but the bit that appealed to me most is that Charlotte has included a fabulously easy peasy version for busy (or should that be lazy???) people like me, who haven't got time to faff around tempering chocolate. Seriously tempted to make a batch of the easy ones!
Last, but by no means least, I've chosen this delicious Leftover Turkey Ragù from Corina at Searching for Spice. I don't know about you, but I find no matter how hard I plan, I always end up with loads of leftovers after Christmas. Corina's recipe looks like a delicious way of using up some of that leftover turkey. But, as Corina points out, often we get a sick of eating turkey leftovers straight after Christmas, so Corina suggests making, then freezing the ragù and saving it for an easy and delicious dish later on in January. I think this is just brilliant. A great way to have some easy, healthy homemade ready meals stashed away and a fabulous use of leftovers too. (If you want any more inspiration for your Christmas leftovers, don't forget to pop back to my blog this week as I will be sharing several of them.)
#CookBlogShare Linky Week 51 & 52
And so we come to this week's linky, or rather the linky for the next two weeks. The #CookBlogShare team decided that, rather than take a week off this year, we would roll this week's linky on for two weeks, meaning you have a place to link up all those fabulous Boxing Day and New Year's posts next week (and it also means I can take a bit of a break from Cook Blog Share over Christmas and I won't be manically trying to catch up with all my commenting on Boxing Day!!).
You can link up any foodie post that you have – both old and new posts are welcome. All you need to do is:
Link up a recipe or foodie post by clicking the blue 'add your link' button below and following the instructions
Add a link from your post back to this post (so everyone else can find it and link up too!)
Add the #CookBlogShare badge to your post (you can find the code below)
Comment on some of the other recipes linked up here and generally share the love with a bit of social media action!
If you wish, you can tweet a link to your recipe to me @easypeasyfoodie, using #CookBlogShare and I will retweet them. You can also post your recipe on the Cook Blog Share Facebook Page.
I will comment on all the posts this week and pin them all to the Cook Blog Share Pinterest Board. I can't wait to see what you've all been making!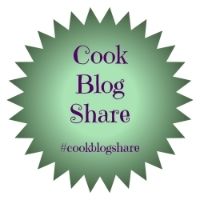 [inlinkz_linkup id=684313 mode=1]
Just to remind you, by joining in you are giving the #CookBlogShare hosts permission to use your pictures in a round up and on social media, if your recipe is selected as one of our favourites!
Finally I just want to say a huge thank you to all of you for linking up your wonderful posts this year (and thank you to all those who have been reading them too) and to wish you all a very Merry Christmas and a fabulously happy 2017!!
Eb x
P.S. The first linky of the New Year will be hosted by Mandy over at Sneaky Veg and will go live on January 3rd.