Brrr – anyone else feeling just a tad chilly this MAY? I know I have readers from all over the world, but here in the UK it is unseasonably COLD! So to warm you up I am sharing with you 4 super soups (see what I did there 😉 ) as well as the linky for #CookBlogShare Week 19.
Not only is it ridiculously cold at the moment (well, relatively speaking – it's not snowing or anything, but it is cold for May in the UK), but time seems to be moving very fast all of a sudden…I think it's because there is so little time in between Easter and half term – just 5 weeks for us and one of those weeks had a bank holiday in it!! All this means that now that I've just about managed to catch up from Easter, I'm already working hard so I can get ahead of myself so I don't have to work too much in May Half Term….
…not that I am complaining too loudly, as we are going on holiday in half term – whoop whoop!! Do you remember that I won the Foodies100 and Tesco Cypriot New Potatoes competition for my Greek Style Chicken Traybake? Well my prize was £800 worth of holiday vouchers – not quite enough to take a family of 4 abroad (though I won't say we didn't think about leaving the kids with their grandparents, so we could 😉 ), so we decided to stay a bit closer to home and visit Edinburgh! (Actually that's total nonsense, living on the South Coast France is way closer than Scotland – but you know what I mean!!)
Apparently it won't be the first time I've visited Edinburgh – my parents tell me they took me when I was 2 – but I honestly don't remember (Sorry Scotland – I don't remember anything from when I was 2 – it's not personal, promise!), so it will FEEL like my first time. I absolutely cannot wait. If you live in Edinburgh, or know it well, do let me know if there is anything I must see…and even more importantly anywhere I must eat!! 😀
The other exciting thing coming up is that it will be my SECOND BLOGIVERSARY on Saturday…I can't believe it's come round so quickly!! Do keep an eye out for my special blogiversary post on Saturday where I will be looking back on all the things that have happened in my second year of blogging. Now to decide what to do/eat/drink to celebrate – any suggestions?!?
4 Super Soups
So yes, in honour of this rather chilly weather we seem to be having (and apologies to those of you who live somewhere where it is already crazily hot!), here are 4 rather fabulous soups to warm you up! Not only do they all sound totally delicious, but they all sound souper healthy (#sorrynotsorry) and are all also vegetarian and mostly vegan (in a few you would have to leave off the finishing touches or use a dairy free alternative).
If you are not a #CookBlogShare regular and are wondering what an earth I am going on about, #CookBlogShare is a place for bloggers to share their recipes. If you are a blogger and have a recipe to share, you can link up your post by following the instructions below. If you are not a blogger, but love food and cooking, do check out the recipes that will be appearing below. If this week is as good as they usually are you will find some awesome recipes – the #CookBlogShare bloggers are very good at what they do!
Spiced Cauliflower, Chickpea and Ginger Soup
So first up we have this rather fab sounding Spiced Cauliflower, Chickpea and Ginger Soup from Debbie at Proper Foodie. Just reading through the ingredients list is making me HUNGRY – the flavours in this soup are some of my absolute favourites! Debbie is also a registered nutritionist and uses her knowledge to ensure her food is properly healthy (no fads here) so you know this is soup is going to be really good for you as well as tasting good!
This fab Asparagus and Spinach Soup from Jo at Jo's Kitchen Larder is a combination of flavours I wouldn't have thought to put together, but reading through her recipe I can really see how this would work. And what a fab way to finish up half a bunch of asparagus and half a bag of spinach! I always seem to end up with half a bag of spinach languishing at the back of my fridge, so I think next time I might have to make this soup.
Next up is this rather intriguingly titled Red Vegetable Soup from Monika at Everyday Healthy Recipes. In it she includes a delicious combination of red peppers, sweet potatoes, carrots, tomatoes and red lentils – plus some garam masala to add some spice – you just know this will warm you up on a chilly evening!
And last, but by no means least a total classic…Carrot and Coriander Soup by Jacqui at Recipes Made Easy. Such a great combination and Jacqui's version looks and sounds so good – plus it is wonderfully easy peasy, not to mention very economical! A great one to do if the pennies are getting tight at the end of the month. She has also given us a whole host of optional variations – I particularly like the idea of adding cannellini or borlotti beans for a more substantial and creamier version!
#CookBlogShare Linky Week 19
And so we come to this week's linky. You can link up any foodie post that you have – both old and new posts are welcome. All you need to do is:
Link up a recipe or foodie post by clicking the blue 'add your link' button below and following the instructions
Add a link from your post back to this post (so everyone else can find it and link up too!) and / or add the #CookBlogShare badge to your post (you can find the code below)
Comment on some of the other recipes linked up here and generally share the love with a bit of social media action!
If you wish, you can tweet a link to your recipe to me @easypeasyfoodie and also (if you have room on the tweet!) my co-hosts Kirsty @k_phillipson, Jacqui @jacdotbee and Monika @MonikasRecipes, using the #CookBlogShare hashtag and we will retweet them. You can also post your recipe on the Cook Blog Share Facebook Page.
I will comment on all the posts this week and pin them all to the Cook Blog Share Pinterest Board. I can't wait to see what you've all been making!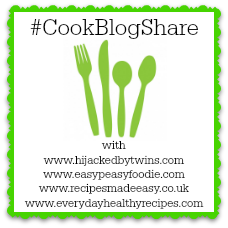 [inlinkz_linkup id=713949 mode=1]
Just to remind you, by joining in you are giving the #CookBlogShare hosts permission to use your pictures in a round up and on social media, if your recipe is selected as one of our favourites!
Next week #CookBlogShare will be hosted by Jacqui at Recipes Made Easy 🙂