I'm sorry – I can never resist a cheeky little pun, but these 4 Eggcellent Easter Recipes really are very good! 😀 Plus find the linky for Week 15 of #CookBlogShare below.
Yey, it's nearly Easter! The kids are now on hols and I have been working like a mad thing these last few weeks, so I can take a bit of time off over Easter.
We will no doubt do a little Easter baking, perhaps making some Mini Egg Rocky Road or some Mini Simnel Cakes…some craft for sure, and definitely an Easter egg hunt (or two) and then after Easter we will be going to my parents' house for a few days of proper R&R!
If you need any help with buying or cooking your Easter Lamb this year, do check out my recent post that I produced in collaboration with the 'LAMB. Tasty Easy Fun' campaign…
And if you are wondering what to do with your leftover lamb on Easter Monday and beyond, why not try my easy peasy Leftover Lamb Ragu…or watch this space – I will be sharing some more easy lamb leftovers ideas on Thursday!
4 Eggcellent Easter Recipes
This week I thought I was going to find choosing my #CookBlogShare theme really easy – 'cos it's Easter right? I was expecting to find lots of lamb recipes, veggie centrepiece alternatives and other Easter lunch type recipes…clearly the other #CookBlogShare bloggers have been thinking differently to me this year…there were quite a few Easter baking recipes that looked nice, but after 2 weeks of Easter baking roundups on #CookBlogShare, I wanted to do something different…and then I began to spot another theme…a simply rather eggcellent theme that allowed me to showcase a couple of my favourite sweet treats AND a couple of rather interesting savoury recipes too…and there was a pun involved… how could I resist? 😉
If you are not a #CookBlogShare regular and are wondering what an earth I am going on about, #CookBlogShare is a place for bloggers to share their recipes. If you are a blogger and have a recipe to share, you can link up your post by following the instructions below. If you are not a blogger, but love food and cooking, do check out the recipes that will be appearing below. If this week is as good as they usually are you will find some awesome recipes – the #CookBlogShare bloggers are very good at what they do!
Potato Rosti and Quail Egg Easter Nests

First up, we have these rather fabulous Potato Rosti and Quail Egg Easter Nests from Claire over at Foodie Quine. These beautiful nests would make a lovely Easter breakfast or brunch, and as an added bonus, they are syn free on Slimming World! Plus Claire has lots of fab hints and tips to help ensure these nests turn out perfectly.
Zoodle Egg Nests with Parsley Pesto

Another fab savoury egg idea, these Zoodle Egg Nests with Parsley Pesto from Monika at Everyday Healthy Recipes would make a delicious starter for your Easter lunch. As a bonus, the eggs and the pesto can be made ahead of time, making it super easy to put this beautiful starter dish together at the last minute. So easy in fact that Monika suggests you could even ask the kids to help (not sure the nests would look as beautiful as Monika's though, if I did ask my kids to help!!)
Creme Egg on Toast
Eggs on toast is a total classic, but have you ever had it done with Creme Eggs before? No? Then you have to try this incredible recipe for Creme Egg on Toast from Hayley at Snap Happy Bakes – warm toasted brioche bread, topped with melted Creme Egg – seriously, what's not to like…well, you know except the calorie count – but calories don't count at Easter right???!!
Healthy Mango And Coconut Creme Eggs
Finally, I couldn't not include this fab recipe from Mandy at Sneaky Veg: Healthy Mango And Coconut Creme Eggs – such a clever idea! Refined sugar free and vegan, these delicious healthy treats are made with homemade dark chocolate, and stuffed with coconut cream (to make the white part) and mango (for the yellow part). I reckon I could eat rather a lot of these!! And guilt free too (well…almost!!).
#CookBlogShare Linky Week 15
And so we come to this week's linky. You can link up any foodie post that you have – both old and new posts are welcome. All you need to do is:
Link up a recipe or foodie post by clicking the blue 'add your link' button below and following the instructions
Add a link from your post back to this post (so everyone else can find it and link up too!)
Add the #CookBlogShare badge to your post (you can find the code below)
Comment on some of the other recipes linked up here and generally share the love with a bit of social media action!
If you wish, you can tweet a link to your recipe to me @easypeasyfoodie and my co-host Kirsty @k_phillipson, using #CookBlogShare and we will retweet them. You can also post your recipe on the Cook Blog Share Facebook Page.
I will comment on all the posts this week and pin them all to the Cook Blog Share Pinterest Board. I can't wait to see what you've all been making!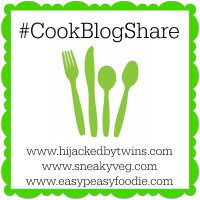 [inlinkz_linkup id=708750 mode=1]
Just to remind you, by joining in you are giving the #CookBlogShare hosts permission to use your pictures in a round up and on social media, if your recipe is selected as one of our favourites!
For the next few weeks things will be slightly different, as Kirsty will be on her hols, so #CookBlogShare will be guest hosted by Jacqui at Recipes Made Easy next week (18th April) and then Monika at Everyday Healthy Recipes the following week (25th April), then on the 2nd May it will be back to Kirsty over at Hijacked By Twins and finally back to me on the 9th May! If you are not sure where the linky is on any given week, just check the pinned post on the Cook Blog Share Facebook Page and you will find all the details! 🙂