Welcome to the #CookBlogShare Linky Week 33, hosted for the very first time on Easy Peasy Foodie!
Eeek! I am super excited to be hosting the #CookBlogShare Linky on Easy Peasy Foodie!! I have been a huge fan of the #CookBlogShare Linky since I first discovered it back in my very early days of blogging and have linked at least one of my recipes up to #CookBlogShare pretty much every week ever since. So you can imagine how excited I was when an e-mail from Kirsty from Hijacked by Twins popped into my inbox a few weeks ago, asking if I would like to host #CookBlogShare to cover Hayley's maternity leave.
Just in case you are not a #CookBlogShare regular and are wondering what an earth I am going on about, #CookBlogShare is a place for bloggers to share their recipes. If you are a blogger and have a recipe to share, you can link up your post by following the instructions below. If you are not a blogger, but love food and cooking, do check out the recipes that will be appearing below. If this week is as good as they usually are you will find some awesome recipes – the #CookBlogShare bloggers are very good at what they do!
But before I share the linkup for this week, I have my roundup of some of my favourite posts from last week to share with you. And gosh what a tough job choosing those was. There were so many good recipes, I kind of wanted to share them all!
But, since I am literally just back from holiday in the South of France, the theme I went for in the end was 4 Easy Holiday Recipes. Whenever we go on holiday, we always pick a self-catering apartment as it gives us more flexibility with the kids and dramatically cuts down the cost of a holiday. We do go out to eat quite a bit, but we like to eat in too. Each of these 4 recipes would definitely be easy enough to make in a holiday apartment, but they also remind me of fab holiday destinations too!
4 Easy Holiday Recipes
First up is Jess Cantoni's delicious Spaghetti Alla Pizzaiola. Not only does this remind me of many lovely Italian holidays I have enjoyed in the past, but it is just the sort of food I love to cook on holiday – a quick and easy pasta dish full of flavour that I am sure must just taste fabulous!
The second recipe is from one of my favourite foodie countries: Spain. Kirsty from Hijacked by Twins used to live on Gran Canaria (lucky thing), so knows a lot about Spanish food and this week she is sharing her lovely recipe for Escudella, a spicy Catalan stew of vegetables, tomatoes and chorizo. This is one of those great dishes where all you need to do is pop the ingredients in a pot and leave it in the oven to do its thing, while you sip aperitifs and eat olives on the terrace. Kirsty is also currently hosting a competition to win a hamper of artisan foodie treats from Catalonia – so hop over to her post soon to be in with a chance of winning it!
Next up is a recipe guaranteed to get you in the holiday mood, these lovely Cajun Tortilla Mini Quiches from Charlotte's Lively Kitchen are not only super easy to make, but are full of holiday flavours from the Americas. I love her idea of using tortillas to make quiches – how easy peasy is that?
Finally, I needed a holiday pudding – and Mandy from Sneaky Veg had the perfect easy peasy holiday pudding idea with her Gluten Free Apricot Crumble. One of my favourite holiday activities is to stroll round the markets looking at all the wonderful food and deciding what to have for dinner. I have just come back from holiday in Aix en Provence where the markets were heaving with delicious fruit and vegetables. This crumble could, I am sure, be very easily adapted to whatever seasonal fruit you may find at the market in your holiday location. Crumble is also a very British dish and so reminds me of the many fabulous staycations I've had here in the UK!
#CookBlogShare Linky Week 33
And so we come to this week's linky. You can link up any foodie post that you have – both old and new posts are welcome. All you need to do is:
Link up a recipe or foodie post by clicking the blue 'add your link' button below and following the instructions
Add a link from your post back to this post
Add the #CookBlogShare badge to your post (you can find the code below)
Comment on some of the other recipes linked up here and generally share the love with a bit of social media action!
If you wish, you can tweet a link to your recipe to me @easypeasyfoodie, using #CookBlogShare and I will retweet them. You can also post your recipe on the Cook Blog Share Facebook Page.
I will comment on all the posts this week and pin them all to the Cook Blog Share Pinterest Board. I can't wait to see what you've all been making!
By joining in you are giving the #CookBlogShare hosts permission to use your pictures in a round up, if your recipe is selected as one of our favourites! Next week's linky will be hosted by Mandy over at Sneaky Veg.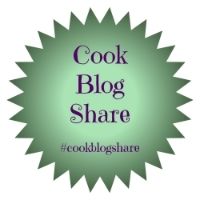 [inlinkz_linkup id=649577 mode=1]