Happy Pancake Day! These 4 fab recipes are perfect for Shrove Tuesday or any day when you just fancy pancakes. Plus find the linky for Week 9 of #CookBlogShare below.
Hooray for Pancake Day! As a kid, Shrove Tuesday was a day I looked forward to all year. We always used to make a big thing of it. My mum makes THE BEST crepe style pancakes – she has a special pan for it and everything. Back then I would always have lemon and sugar on my pancakes – and then, when all the pancakes were eaten up and Mum refused to make any more (she had probably made us about 10 each by this point), I would make little piles of sugar on my plate and squeeze out the last of the lemon juice on top and just eat that with a spoon!
These days I still love pancakes, but I do try to be just a teensy weensy bit more healthy in my approach – OK so I still do love traditional pancakes with lemon and sugar, but maybe not 10 any more – and definitely no extra piles of lemon and sugar!!
This year I was challenged to make some free from pancakes to share on my blog and took the opportunity to make a healthy but no less decadent version, the result were these Oat, Almond and Banana Pancakes – chock full of goodness and drizzled with a totally delicious berry compote, yet amazingly gluten, dairy and egg free!
4 Deliciously Different Pancake Recipes
The other #CookBlogShare bloggers have also been busy making some fab pancake recipes – so this week I had no trouble picking the theme (it really HAD to be pancakes, didn't it?), but I had a tough job picking which ones I wanted to feature for my roundup!! In the end I decided to feature delicious pancake recipes that were just a little bit different from the norm.
If you are not a #CookBlogShare regular and are wondering what an earth I am going on about, #CookBlogShare is a place for bloggers to share their recipes. If you are a blogger and have a recipe to share, you can link up your post by following the instructions below. If you are not a blogger, but love food and cooking, do check out the recipes that will be appearing below. If this week is as good as they usually are you will find some awesome recipes – the #CookBlogShare bloggers are very good at what they do!
First up, I absolutely had to pick these fab savoury Pancakes with Creamy Garlic Chicken and Mushrooms from Jacqui at Recipes Made Easy. In the UK we mostly think of pancakes as being a sweet thing, but they are absolutely amazing as a savoury dish too. And this gorgeous creamy garlic, chicken and mushroom filling sounds delicious – plus a great way to use up leftover roast chicken. If you are not too confident making pancakes, Jacqui has also done a lovely step by step guide to making pancakes, which you can find on her blog.
As I said earlier, I try to eat fairly healthily these days, so these lovely Apple Pie Healthy Pancakes from Monika at Everyday Healthy Recipes really appealed to me. Her pancakes contain no added sugar, honey or any other sweetener, instead they are naturally sweetened using sweet apples, almonds and cinnamon. I think they would make a really delicious healthy brunch or afternoon snack. I know my kids would love them!
Coconut & Lime Freefrom Pancakes with Grilled Pineapple & Ginger Syrup
Midge from The Peachicks Bakery has provided yet another twist on the pancake theme: Coconut & Lime Freefrom Pancakes with Grilled Pineapple & Ginger Syrup. I love tropical flavours, so I know I would really love these pancakes. Her pancakes are dairy and egg free, and gluten free too as she has used Free From Fairy plain flour in her batter. Vicki from The Free From Fairy has created a wonderful gluten free, rice free wholegrain flour that I keep hearing the most amazing things about. She has kindly sent me a sample, which I can't wait to try out – so watch this space!
Beetroot Buttermilk Pancakes
Finally, I couldn't not include these amazing gluten free Beetroot Buttermilk Pancakes from Kate at The Gluten Free Alchemist. Made from a blend of gluten free flours, cocoa, beetroot and buttermilk – they look amazing, and I'm pretty sure they must taste amazing too! Kate shares on her blog two different ways to enjoys these unusual pancakes: either sweet, with maple syrup, bananas and strawberries; or savoury with minted pea soured cream and crispy grilled bacon. As someone who adores unusual flavour combinations, I'd really like to try this variation!
#CookBlogShare Linky Week 9
And so we come to this week's linky. You can link up any foodie post that you have – both old and new posts are welcome. All you need to do is:
Link up a recipe or foodie post by clicking the blue 'add your link' button below and following the instructions
Add a link from your post back to this post (so everyone else can find it and link up too!)
Add the #CookBlogShare badge to your post (you can find the code below)
Comment on some of the other recipes linked up here and generally share the love with a bit of social media action!
If you wish, you can tweet a link to your recipe to me @easypeasyfoodie and my co-host Kirsty @k_phillipson, using #CookBlogShare and we will retweet them. You can also post your recipe on the Cook Blog Share Facebook Page.
I will comment on all the posts this week and pin them all to the Cook Blog Share Pinterest Board. I can't wait to see what you've all been making!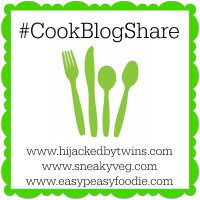 [inlinkz_linkup id=700048 mode=1]
Just to remind you, by joining in you are giving the #CookBlogShare hosts permission to use your pictures in a round up and on social media, if your recipe is selected as one of our favourites!