4 deliciously comforting meals, perfect for autumn, plus the linkup for week 42 of #CookBlogShare.
So this weekend has been a rather exciting one for me. Instead of the usual routine of ferrying the kids to their various clubs and activities, supervising homework and the odd game of Monopoly, I spent the weekend in the company of 8 keen food writers and Karen Barnes, Editor of delicious magazine, on a food writing weekend at All Hallows – a gorgeous Georgian farmhouse set deep in the Dorset countryside, run by the lovely Lisa Osman, which specialises in foodie courses, luxury B&B accommodation and the most fantastic food straight from Lisa's enormous green aga (serious cooker envy!).
The day before I set off for my fabulous foodie weekend was my birthday and so to celebrate my husband took me to Wahaca in Brighton for a very exciting birthday lunch – a feast of Mexican street food, not to mention the most incredible churros.
I will of course be sharing more about my foodie adventures in Dorset in the coming weeks and no doubts some recipes inspired by my visit to Wahaca too, but first I must to turn my attention to this week's #CookBlogShare Roundup. I am so excited to share with you my picks this week, as they are all so scrumptious and remind me of my favourite season: autumn.
I just love every aspect of autumn, from the first moment when the leaves begin to turn brown on the trees, through the bonfires and fireworks, to the pretty lights and excited anticipation of Christmas. The fact my birthday is in autumn helps too! But the thing I love most about autumn is the food. Summer's picnics and salads give way to warming stews, comforting pies and lashings of mashed potatoes, not to mention delicious autumnal produce: pumpkins, squashes, mushrooms, apples, parsnips and more. So it is these wonderful autumnal comfort food dishes and seasonal flavours that I have chosen to showcase this week.
Just in case you are not a #CookBlogShare regular and are wondering what an earth I am going on about, #CookBlogShare is a place for bloggers to share their recipes. If you are a blogger and have a recipe to share, you can link up your post by following the instructions below. If you are not a blogger, but love food and cooking, do check out the recipes that will be appearing below. If this week is as good as they usually are you will find some awesome recipes – the #CookBlogShare bloggers are very good at what they do!
4 Comforting Autumn Meals
So, first up I have chosen this total comfort food classic by Nico of Yumsome: Vegan Mushroom and Buckwheat Shepherd's Pie. I love how she has taken this autumnal classic and transformed it into a delicious vegetarian and vegan friendly dish. But, what particularly caught my eye was that instead of using Quorn or lentils as a vegetarian alternative to meat, she chose to use buckwheat groats – something I have recently discovered and come to love, but have never seen in a shepherd's pie before.
As the weather becomes steadily more cold and rainy, what better way to warm up than with a spicy curry? So next up we have this delicious Chicken & Lime Curry from Charlotte's Lively Kitchen. Not only has Charlotte whipped up this fabulous, warming curry, but she has also made a brilliant little video of the recipe. I am so impressed with Charlotte's videos – they always looks so professional!
One of my favourite things about autumn is the wonderful apple dishes: comforting apple pies, crumbles and of course baked apples, but I love the way Monika from Everyday Healthy Recipes has chosen to use this autumnal fruit in a savoury dish: Rooibos Chicken with Autumn Apple. I also really like how Monika has used rooibos tea as a seasoning for her chicken. I love rooibos tea, but I had never considered using it in cooking…I will now!
Finally, one of my other autumn favourites is mushrooms and I love the way Kirsty from Hijacked by Twins has used them with chorizo in this wonderfully easy midweek pasta supper: Chicken and Chorizo with Artisan Tagliatelle. This dish looks so simple and yet so delicious. It is absolutely the sort of thing my family would enjoy on a busy midweek evening. I also love how Kirsty has given her dish an unusual twist by using spring onion flavoured pasta, which she found in Aldi. I love little twists like that which can elevate a simple midweek meal into something a bit more special, but with very little extra effort involved!
#CookBlogShare Linky Week 42
And so we come to this week's linky. You can link up any foodie post that you have – both old and new posts are welcome. All you need to do is:
Link up a recipe or foodie post by clicking the blue 'add your link' button below and following the instructions
Add a link from your post back to this post (so everyone else can find it and link up too!)
Add the #CookBlogShare badge to your post (you can find the code below)
Comment on some of the other recipes linked up here and generally share the love with a bit of social media action!
If you wish, you can tweet a link to your recipe to me @easypeasyfoodie, using #CookBlogShare and I will retweet them. You can also post your recipe on the Cook Blog Share Facebook Page.
I will comment on all the posts this week and pin them all to the Cook Blog Share Pinterest Board. I can't wait to see what you've all been making!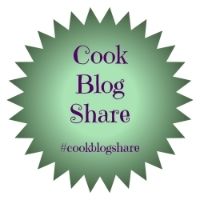 [inlinkz_linkup id=669735 mode=1]
Just to remind you, by joining in you are giving the #CookBlogShare hosts permission to use your pictures in a round up and on social media, if your recipe is selected as one of our favourites!
Next week's linky will be hosted by Mandy over at Sneaky Veg.