Hooray! After a chilly start to spring, the sun has finally come out to play. Which means we can finally enjoy cooking on the barbecue!! To celebrate I am sharing 4 Awesome BBQ Recipes as well as the linky for #CookBlogShare Week 23.
It feels like forever ago since I last hosted CookBlogShare! That's partly because it actually has been a little longer than usual because the Cook Blog Share team is now slightly bigger – if you don't know already Monika and Jacqui have now joined the CookBlogShare team along with Kirsty and myself (whoop whoop – super happy to have you both on board!!), so we will each now be hosting once every 4 weeks.
But also, I think, because so much has happened since the last time I hosted! One of the biggest things for me have been my second blogiversary – crazy, huh? How have I been blogging for 2 years already???
Another exciting thing for me was that last week we spent a few days in Edinburgh – thanks to some travel vouchers I won for my Greek Chicken Traybake recipe. It was an awesome trip – pretty much my first time ever to Edinburgh (I did go when I was 3, apparently…but I don't remember a thing!), so we hit all the main tourist sites: Castle / Palace / Royal Mile / Britannia / Scottish Parliament etc., did a couple of bus tours and did our level best to sample as much of the local restaurant scene as it was possible to in just a few short days and with two small kids in tow! We mixed it up with tried and tested family friendly restaurants like Wagamama and Zizzi, together with a few fab independent restaurants – we particularly liked Smoke Stack (mainly steak and beef burgers), where I had one of the best steaks I've ever had…and The Basement Bar, a really funky Mexican restaurant where they make guacamole at your table to your own personal specification, and also have a pretty insane list of tequilas!
We also tried a few Scottish specialities: haggis, neeps and tatties, cranachan and, of course, the whisky – I have a bit of a confession to make at this point…on the last afternoon we only had time for one more activity – our choice was either Dynamic Earth (lovely kid friendly, hands on science museum) or The Scottish Whisky Experience…can you guess which we went for? – yep, the whisky! Yes, we are very, very bad parents **hangs head in shame**. But actually The Scottish Whisky Experience was amazingly child friendly…the clever people at The Scottish Whisky Experience have clearly worked out that if you make it child friendly, you get the mums and dads to visit (especially the bad ones like us!!) – the tour starts in a whisky barrel where you go for a ride around the whisky making process (think tame theme park ride, but with interesting educational bits about whisky), then a film about the different styles of whisky complete with scratch and sniff card (which the kids loved!) and finally a whisky tasting, where the kids got to taste Scotland's other national drink – Irn Bru! Which they dutifully (and rather hilariously) 'tasted' following our guide's instructions to look at the colour, before smelling the aroma, then sipping…holding the whisky/Irn Bru on the tongue to fully appreciate it…their little faces full of concentration. Amusingly The Scottish Whisky Experience turned out to be one of the kids' favourite parts of the holiday. (I'm not making that up – honestly!!) And I would heartily recommend it whether you have kids or not!
And finally on our way home from Scotland, we took a slight detour to go and visit Newcastle, where I had lived as a child, but hadn't been back to since I left some 33 years ago, when I was 4! We found my old house and took a trip on the Metro into central Newcastle for lunch – the exact same journey I use to do when I was little – such a trip down memory lane! It was all quite magical 😀
Anyway, enough reminiscing – time to get on with CookBlogShare!
4 Awesome BBQ Recipes
Despite living in the UK pretty much my whole life (well apart from a year and a half in France), I never cease to be confused by our crazy weather. Spring is particularly confusing as it can range from freezing cold to boiling hot, from pouring with rain to perfect blue skies – and that's just in one day sometimes! It gives me all sorts of 'what to wear' crises, (and plenty of days when I have to change outfit 3 times) and don't get me started on the 'what to eat' crises! How often have I been caught out, planning soups and stews for dinners at the weekend, because the weather forecast says it's going to be gloomy and cold, only for it to be swelteringly hot instead (or vice versa!!)?
Well, as I write this, the weather forecast is warm and sunny for the weekend, so I am going to be brave and share with you 4 Awesome Barbecue Recipes…4 recipes which are all a bit of a twist on the usual barbecue fare – now, fingers crossed I haven't jinxed it!!
If you are not a #CookBlogShare regular and are wondering what an earth I am going on about, #CookBlogShare is a place for bloggers to share their recipes. If you are a blogger and have a recipe to share, you can link up your post by following the instructions below. If you are not a blogger, but love food and cooking, do check out the recipes that will be appearing below. If this week is as good as they usually are you will find some awesome recipes – the #CookBlogShare bloggers are very good at what they do!
Yummy Southwest Burger
First up, we have this Yummy Southwest Burger from Jaxx at The Bearded Hiker, which he describes as 'Stupid Good' – if you watch the video you can see why – my mouth was seriously watering and, if I had had all the ingredients in my kitchen, I'd have probably dropped everything then and there and gone into the kitchen to make it (I was tempted to go out shopping). Jaxx also has all sorts of hints and tips on how to make your burger really, really good! Like making your pan/barbecue as hot as possible and not fiddling with the burger while it's cooking (so guilty of this one!)
BBQ Spatchcock Garlic and Herb Chicken
But barbecuing is not just about burgers – there are so many other options – one that particularly caught my eye was this incredible BBQ Spatchcock Garlic and Herb Chicken from Jacqui at Recipes Made Easy. What a wonderful alternative to roast chicken for a hot day – perfect for a Sunday Roast with a twist. If spatchcocking a whole chicken sounds tricky, don't worry, Jacqueline has excellent step by step instructions and photos to help.
Barbecue Salmon Rainbow Kebabs
Another lovely alternative to the usual barbecue fare would be these delicious Barbecue Salmon Rainbow Kebabs from Jenny at Mummy Mishaps. Jenny first marinates her salmon in a delicious sounding barbecue sauce, before threading them on skewers together with mushrooms, peppers and onions, cooking on the barbecue and then serving in pittas – I love how simple this recipe sounds and I know my kids would go mad for them!! Jenny also has some great tips on how to cook kebabs to perfection on the barbecue.
Pulled Jackfruit
Finally, I didn't want to leave the vegetarians out, and, quite frankly, I couldn't not give this fab Pulled Jackfruit recipe from Choclette at Tin and Thyme a shout out!! Although not strictly a recipe you could make on the barbecue – it would certainly make a great veggie alternative to barbecue food and Choclette also shares her delicious sounding barbecue sauce recipe in this post, which sounds utterly delicious and is full of natural ingredients, but super quick to prepare. I am totally intrigued by the sound of jackfruit, which is being touted as a veggie alternative to pulled pork – hop over the Choclette's lovely recipe to find out more!
#CookBlogShare Linky Week 23
And so we come to this week's linky. You can link up any foodie post that you have – both old and new posts are welcome. All you need to do is:
Link up a recipe or foodie post by clicking the blue 'add your link' button below and following the instructions.
Add a link from your post back to this post (so everyone else can find it and link up too!) and / or add the #CookBlogShare badge to your post (you can find the code below).
Comment on some of the other recipes linked up here and generally share the love with a bit of social media action!
If you wish, you can tweet a link to your recipe to me @easypeasyfoodie and also (if you have room on the tweet!) my co-hosts Kirsty @k_phillipson, Jacqui @jacdotbee and Monika @MonikasRecipes, using the #CookBlogShare hashtag and we will retweet them. You can also post your recipe on the Cook Blog Share Facebook Page.
I will comment on all the posts this week and pin them all to the Cook Blog Share Pinterest Board. I can't wait to see what you've all been making!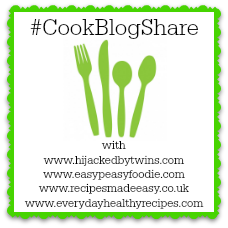 [inlinkz_linkup id=713953 mode=1]
Just to remind you, by joining in you are giving the #CookBlogShare hosts permission to use your pictures in a round up and on social media, if your recipe is selected as one of our favourites!
Next week #CookBlogShare will be hosted by Jacqui at Recipes Made Easy 🙂