4 delicious bakes, each with an unusual twist, plus the linkup for week 39 of #CookBlogShare!
So this week has been a rather exciting one for me as my blog won its first award – eeek!!! I won British Turkey Blogger Recipe of the Year and got to go to a rather glitzy awards do in London last Thursday. As you can imagine, I've been walking around on cloud nine ever since. You can read all about it here.
Back in my normal life, and I am still utterly addicted to the Great British Bake Off, but also super sad to hear that this series will be the last one of Bake Off in its current format. I didn't mind too much that it was moving to Channel 4, but I just can't imagine GBBO without Mary, Mel or Sue!!! 🙁
The Great British Bake Off continues to inspire lots of blogger recipes and last week was no different – lots of you linked up Bake Off inspired recipes to #CookBlogShare, but it was some of the more unusual bakes that caught my eye for this week's #CookBlogShare roundup – some of them inspired by Bake Off and some not…
Just in case you are not a #CookBlogShare regular and are wondering what an earth I am going on about, #CookBlogShare is a place for bloggers to share their recipes. If you are a blogger and have a recipe to share, you can link up your post by following the instructions below. If you are not a blogger, but love food and cooking, do check out the recipes that will be appearing below. If this week is as good as they usually are you will find some awesome recipes – the #CookBlogShare bloggers are very good at what they do!
4 Unusual Bakes
So, first up we have these amazing All Day Breakfast in the Holes from Charlotte's Lively Kitchen. Charlotte was inspired by the challenge set by Paul and Mary a couple of weeks ago to create Yorkshire puddings with savoury fillings. On the Great British Bake Off the contestants only had to fill their puddings, but Charlotte has taken this idea one step further and actually cooked her fillings inside her Yorkshire puddings – inside each of these lovely Yorkshires is a sausage, a slice of bacon AND an egg! Don't you think they would just make the most fantastic brunch?
Next up we have another GBBO inspired bake – Kate, from Gluten Free Alchemist, has created this amazing Selection of Breakfast Pastries…from scratch! The twist here being that they are all gluten free!! I am utterly in awe of her skills – these would be hard enough to make from scratch using normal flour, but to do this with gluten free flour is seriously impressive!
Keeping on the gluten free theme, Vicki, AKA the Free From Fairy has made this incredible Vegan and Gluten Free 'Cheese' Bread, using her own special multipurpose, wholegrain, gluten free and rice free flour. If you want to find out more about Vicki and her flour, there is a lovely interview with her on Honest Mum this week and if you want to buy the flour, you can get it from online retailer Honest Eats. Not only is Vicki's bread gluten free and vegan but she has also given it a lovely cheesy twist by using nutritional yeast – yum!!
Finally, my last unusual bake this week is by Angela from Only Crumbs Remain, who has made this incredible Beer Cake with Stoodley Stout. I didn't know there was such a thing as Beer Cake until Angela linked up her lovely version this week. This cake is packed with flavour from dates, walnuts, orange zest, spices and of course the beer! As an added bonus her cake is low in fat and can be made with buckwheat flour for extra goodness. I think this would make a lovely alternative to a traditional Christmas cake, later on in the year.
#CookBlogShare Linky Week 39
And so we come to this week's linky. You can link up any foodie post that you have – both old and new posts are welcome. All you need to do is:
Link up a recipe or foodie post by clicking the blue 'add your link' button below and following the instructions
Add a link from your post back to this post (so everyone else can find it and link up too!)
Add the #CookBlogShare badge to your post (you can find the code below)
Comment on some of the other recipes linked up here and generally share the love with a bit of social media action!
If you wish, you can tweet a link to your recipe to me @easypeasyfoodie, using #CookBlogShare and I will retweet them. You can also post your recipe on the Cook Blog Share Facebook Page.
I will comment on all the posts this week and pin them all to the Cook Blog Share Pinterest Board. I can't wait to see what you've all been making!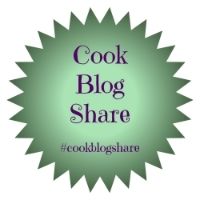 [inlinkz_linkup id=665498 mode=1]

Just to remind you, by joining in you are giving the #CookBlogShare hosts permission to use your pictures in a round up and on social media, if your recipe is selected as one of our favourites!
Next week's linky will be hosted by Mandy over at Sneaky Veg.