Spoil your mum this Mother's Day with these deliciously indulgent treats. Plus find the linky for Week 12 of #CookBlogShare below.
Since becoming a mum, Mother's Day has become quite different for me. It used to be about spoiling my mum and making the day really special for her and, of course, there is still a bit of that. I always send a card and a present and give her a ring on the day itself, but living a fair distance from her, I don't usually see her on Mother's Day itself any more.
For my own kids (age 6 & 8) however, it's a hugely important day. Bless them – they have been talking about it almost since Christmas and I keep finding them in a corner somewhere huddled over 'something important' which they tell me I can't look at! And then somewhere around this time of year, there is the all-important shopping trip with Daddy that I am NOT ALLOWED to go on.
And then on the day itself I am told, in no uncertain terms, I MUST have a lie in AND breakfast in bed (it's a hard life) and, rather amusingly, that Daddy MUST make all the meals and do all the jobs and I MUST have a day off. Well obviously this is a very tough brief, but I manage as best I can. 😉
The only thing missing from this lovely scenario is there is no cake. Or any other indulgent treats lovingly handmade by my children. They would very happily make them (and indeed we make lots of yummy treats together normally), but unfortunately Daddy is not such a fan of baking! And they are too young to bake by themselves. So this year I set about creating a cake that almost anyone could make. My Orange, Pistachio and Honey Polenta Cake doesn't involve any special skills – if you can measure, stir and put something in the oven, you can make it! And the decoration is even easier. If you can throw pistachios and orange peel from a height and make a bit of a mess, you have the skills!! It also just so happens to be gluten and dairy free, so perfect if your mum has an allergy or intolerance.
4 Indulgent Treats for Mother's Day
The other #CookBlogShare bloggers have also been hard at work dreaming up deliciously indulgent treats for Mother's Day. And have come up with some incredible and impressive ideas, which would be just perfect for treating that special lady in your life.
If you are not a #CookBlogShare regular and are wondering what an earth I am going on about, #CookBlogShare is a place for bloggers to share their recipes. If you are a blogger and have a recipe to share, you can link up your post by following the instructions below. If you are not a blogger, but love food and cooking, do check out the recipes that will be appearing below. If this week is as good as they usually are you will find some awesome recipes – the #CookBlogShare bloggers are very good at what they do!
First up we have these very impressive, but actually really easy, Hidden Hearts Cupcakes from Charlotte of Charlotte's Lively Kitchen. I have seen these type of cakes on Pinterest and Instagram and always thought they must involve some terribly clever and complicated technique – not a bit of it! Hop over to Charlotte's blog and you can find the secret of how to make these super easy cupcakes.
Apple Rose Tart
If you have a little more time on your hands and want to show your love and care through the medium of a totally show stopping dessert, then this beautiful Apple Rose Tart from Angela at Only Crumbs Remain, would be another great option. Making the apple roses might be a little bit fiddly and time consuming but the rest of the tart sounds fairly straightforward, and it would certainly be impressive served as part of a Mother's Day lunch or afternoon tea. Angela uses olive oil in her pastry, meaning this wonderful tart also happens to be dairy free, egg free and vegan – and as an extra bonus, it's also low in sugar too!
If you would like to make some chocolates for Mother's Day this year, rather than buy them, then Angela from Only Crumbs Remain has another great idea – these rather beautiful Homemade Hazelnut Noisette Chocolates, inspired by the Green Triangle in a box of Quality Street. Making a batch of these would be sure to earn you brownie points with your mum and Angela assures us that they are not as difficult to make as they look. Apparently these are only her third attempt EVER at making handmade chocolates! I am seriously impressed.
Oreo Brownies
Finally, if you are looking for a quick and easy, but totally indulgent treat for Mother's Day this year, I think these Oreo Brownies would fit the bill perfectly. Chonnie from Baked to Imperfection has a super simple recipe for making perfect brownies without the hassle. And I love the idea of topping them with Oreos!! These would be a great treat to make with kids and if you don't think Oreos would go down well, Chonnie has lots of other great suggestions for topping these delicious brownies – white chocolate, salted caramel, raspberries, Snickers, After Eights, strawberries and more!
#CookBlogShare Linky Week 12
And so we come to this week's linky. You can link up any foodie post that you have – both old and new posts are welcome. All you need to do is:
Link up a recipe or foodie post by clicking the blue 'add your link' button below and following the instructions
Add a link from your post back to this post (so everyone else can find it and link up too!)
Add the #CookBlogShare badge to your post (you can find the code below)
Comment on some of the other recipes linked up here and generally share the love with a bit of social media action!
If you wish, you can tweet a link to your recipe to me @easypeasyfoodie and my co-host Kirsty @k_phillipson, using #CookBlogShare and we will retweet them. You can also post your recipe on the Cook Blog Share Facebook Page.
I will comment on all the posts this week and pin them all to the Cook Blog Share Pinterest Board. I can't wait to see what you've all been making!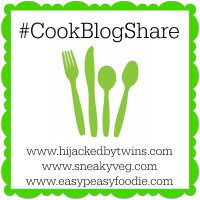 [inlinkz_linkup id=703303 mode=1]
Just to remind you, by joining in you are giving the #CookBlogShare hosts permission to use your pictures in a round up and on social media, if your recipe is selected as one of our favourites!