4 exciting recipes for cakes and biscuits inspired by the first two weeks of this year's Great British Bake Off, plus the linkup for week 36 of #CookBlogShare!
So then, who is enjoying watching the Great British Bake Off? I for one am glued to my screen on a Wednesday evening (though slightly later than everyone else as Wednesday night is my running club night – thank goodness for catchup TV!) thoroughly enjoying every innuendo, pun, disaster and Paul Hollywood handshake and sitting right on the edge of my sofa for the final decision – who will we crowned star baker and who will have to go home?
So when I spotted 4 lovely GBBO inspired recipes in this weeks #CookBlogShare entries, I knew I had my theme: 2 of these lovely recipes were inspired by the first week, which was cake week and 2 by last week's biscuit theme.
Just in case you are not a #CookBlogShare regular and are wondering what an earth I am going on about, #CookBlogShare is a place for bloggers to share their recipes. If you are a blogger and have a recipe to share, you can link up your post by following the instructions below. If you are not a blogger, but love food and cooking, do check out the recipes that will be appearing below. If this week is as good as they usually are you will find some awesome recipes – the #CookBlogShare bloggers are very good at what they do!
4 GBBO Inspired Recipes
First up we have Jenny's wonderful Ginger and Lemon Drizzle Cake from her lovely blog Mummy Mishaps. I love the sound of that delicious combination of ginger and lemon and I also like how easy peasy the recipe is. I think this would be a great cake to make for the kids on their first day back at school (mine don't go back until tomorrow) or for Sunday tea. Jenny also hosts the Great Bloggers Bake Off. If you are a blogger and fancy trying your hand at the baking challenges Paul and Mary set the GBBO contestants each week, then do hop over to Mummy Mishaps and link them up (and don't forget to link them up to #CookBlogShare too, of course!!).
Kate at Gluten Free Alchemist also baked a drizzle cake inspired by the ones on GBBO, but her Raspberry & Lemon Drizzle Bundt Cake came with a twist – two actually. Firstly she baked it in a bundt tin – just to make it extra showstoppery and secondly her cake is totally gluten free – Kate's daughter was diagnosed with Coeliac Disease a few years ago and since then she has been on a mission to make sure her daughter doesn't miss out – well I don't think anyone could feel hard done by with this cake!
Next up is the first of our biscuit week entries – Mandy from Sneak Veg has baked these wonderful Vegan Apple and Cinnamon Viennese Whirls – made with dairy-free spread, meaning they are suitable for vegans, and filled with a delicious apple, maple syrup and cinnamon mixture, rather than the traditional raspberry jam – which I feel is the sort of thing I would happily lick from the pan! And don't they look pretty? After watching how much the GBBO contestants struggled with these I am seriously impressed.
And last, but by no means least, Angela from Only Crumbs Remain baked this stunning Springtime Gingerbread Scene, depicting her favourite season, complete with birds, hares, blossom trees, a house, a bird table, herself, Mr E and even their cat! I am super impressed – and she has provided a fab step-by-step recipe, so you to can create your own gingerbread scene. I'm definitely bookmarking this one to come back to for inspiration at Christmas time!
#CookBlogShare Linky Week 36
And so we come to this week's linky. You can link up any foodie post that you have – both old and new posts are welcome. All you need to do is:
Link up a recipe or foodie post by clicking the blue 'add your link' button below and following the instructions
Add a link from your post back to this post (so everyone else can find it and link up too!)
Add the #CookBlogShare badge to your post (you can find the code below)
Comment on some of the other recipes linked up here and generally share the love with a bit of social media action!
If you wish, you can tweet a link to your recipe to me @easypeasyfoodie, using #CookBlogShare and I will retweet them. You can also post your recipe on the Cook Blog Share Facebook Page.
I will comment on all the posts this week and pin them all to the Cook Blog Share Pinterest Board. I can't wait to see what you've all been making!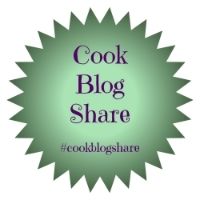 [inlinkz_linkup id=649582 mode=1]
Just to remind you, by joining in you are giving the #CookBlogShare hosts permission to use your pictures in a round up and on social media, if your recipe is selected as one of our favourites!
Next week's linky will be hosted by Mandy over at Sneaky Veg.