Eeek!!! It's almost December and that means party season! Have no fear, whip up a few of these awesome savoury party nibbles and everything will be alright. Plus find the linkup for Week 48 of #CookBlogShare below.
Oh my goodness I can't quite believe how close to Christmas we are already! How are you doing? Have you started your Christmas shopping yet? Or are you one of those super duper organised people who has already finished??? I'm afraid this year I am the most disorganised I have ever been around Christmas time. I haven't even written my to do list yet, let alone started buying presents!!
I have at least finally stopped gadding about the country attending various courses and events. Last time I hosted #CookBlogShare I was off on my way to the River Cottage – if you haven't read about my adventures at the River Cottage already, you can read about it here. It was just as magical and foodie as you would expect. I feel like such a super lucky girl to have been invited and of course it was so lovely to meet lots of lovely foodie bloggers too!
But no sooner did I stop my gallivanting, than I had my daughter's 8th birthday to sort out (basically Barbie and pink in every possible way), and then I spent a day planning my Christmas content for the blog and realised that if I wanted to include everything I had written on my spreadsheet, I was going to have to start blogging a lot more often – eeek!!!
Bizarrely, I have so far managed to keep up with a much busier schedule on my blog (makes me wonder why I feel so busy the rest of the year), but it has meant that my 'real life' Christmas planning has been basically non-existent so far this year…but I'm sure my family will be OK about it if I just show them pretty pictures of things on my blog for Christmas, no? 😉
OK time stop nattering and turn my attention to this week's #CookBlogShare Roundup. This week I have chosen to showcase these 4 Awesome Savoury Party Nibbles. Just in case you have a party coming up and are feeling as disorganised as me – whip up a few of these awesome savoury party nibbles and I'm sure everything will be OK!
If you are not a #CookBlogShare regular and are wondering what an earth I am going on about, #CookBlogShare is a place for bloggers to share their recipes. If you are a blogger and have a recipe to share, you can link up your post by following the instructions below. If you are not a blogger, but love food and cooking, do check out the recipes that will be appearing below. If this week is as good as they usually are you will find some awesome recipes – the #CookBlogShare bloggers are very good at what they do!
4 Awesome Savoury Party Nibbles
So, first up we have these rather exciting Beetroot, Onion and Goats Cheese Tarts from Jacqui at Recipes Made Easy. They are just so beautiful, aren't they? And perfect as party nibbles, but also a whole host of other things too: a dinner party starter, a lunchbox or even a light meal in their own right – ideal if you need a break from all that over-indulging!! If you are a wee bit unsure about making pastry, Jacqui has also shared loads of fabulous hints and tips for making perfect pasty for the party season. These little tarts are part of Jacqui's Great Bloggers Bake Off Final Showstopper Spread. If you haven't seen it yet you really should – seriously impressive stuff. I want to be invited to one of Jacqui's parties!!
Are you on a diet at the moment? Does the thought of entering the party season fill you with dread as you worry all your hard work so far will be undone in one short month? If so Cliona from Basement Bakehouse has a brilliant solution: Low Syn Steak & Pepper Nibbles. These gorgeous little nibbles look so delicious and yet are only 2.5 syns on Slimming World. Plus, according to Cliona, they are surprisingly filling. They are also ridiculously easy to make, and to make it even easier, Cliona has made a fab video of her making them, which you can watch over on her blog.
Another fab healthy option are these delicious looking Salmon Lime Fish Fingers from Monika of Everyday Healthy Recipes – don't they just look gorgeous? They would be so pretty at a party and just as lovely as a healthy meal in their own right. And they are obviously super child friendly too. In fact, Monika's children have unanimously declared these fish fingers to be their favourite salmon recipe of all time! It's very easy to see why – I'm sure my two would love them. Monika has also created a wonderful healthy yogurt, lime and herb dip to go with these yummy fish fingers. Another great recipe for a party, and I'm sure the dip would go brilliantly with a whole host of other things too.
So finally we come to these rather scrumptious sounding Cheese and Marmite Sausage Rolls from Louise over at A Strong Coffee. Or at least I think they are fab, but then I'm a Marmite fan – I'm guessing quite a few of you probably think they sound revolting!! Marmite certainly divides opinion, doesn't it? But I reckon if you are a Marmite fan you will absolutely adore these. And better still they are super easy to make and only involve 5 ingredients – yay!!
#CookBlogShare Linky Week 48
And so we come to this week's linky. You can link up any foodie post that you have – both old and new posts are welcome. All you need to do is:
Link up a recipe or foodie post by clicking the blue 'add your link' button below and following the instructions
Add a link from your post back to this post (so everyone else can find it and link up too!)
Add the #CookBlogShare badge to your post (you can find the code below)
Comment on some of the other recipes linked up here and generally share the love with a bit of social media action!
If you wish, you can tweet a link to your recipe to me @easypeasyfoodie, using #CookBlogShare and I will retweet them. You can also post your recipe on the Cook Blog Share Facebook Page.
I will comment on all the posts this week and pin them all to the Cook Blog Share Pinterest Board. I can't wait to see what you've all been making!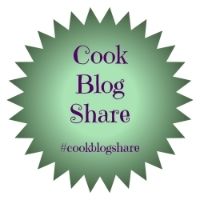 [inlinkz_linkup id=679276 mode=1]
Just to remind you, by joining in you are giving the #CookBlogShare hosts permission to use your pictures in a round up and on social media, if your recipe is selected as one of our favourites!
Next week's linky will be hosted by Mandy over at Sneaky Veg.